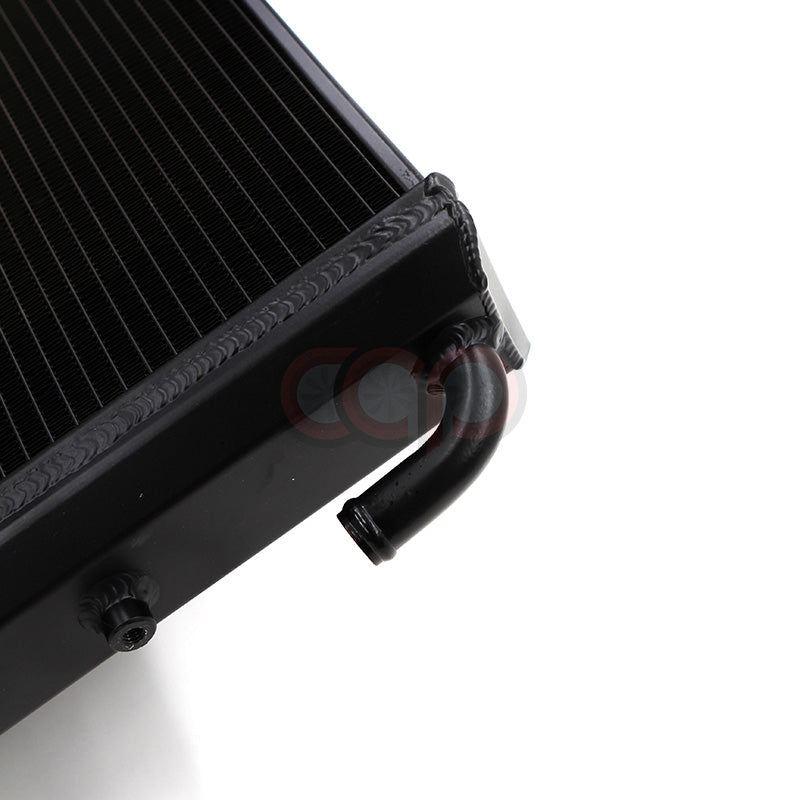 CAP Can Auto Performance Supercharger 3.0T Heat Exchanger | 2010-2017 B8/B8.5 Audi S4, S5, A6, A7, Q5, SQ5, S6, S7
Sale price

$539.00
Regular price

$579.00
(/)

Product Description
Vehicle Fitment
Kit Content
***FREE Shipping to Lower 48 USA!***
Silver CAP Heat Exchanger: In Stock & Ready to Ship!
Black CAP Heat Exchanger: In Stock & Ready to Ship!
Proudly Made in Canada!
Check all images for a size comparison between the Can Auto Heat Exchanger & the best-selling heat exchanger on the market, PLM's. The size difference is very significant! Maximize size, minimize heat soak - to maximize performance!
ENHANCED COOLING FOR AUDI 3.0T: CAP HEAT EXCHANGER UPGRADE
The Canadian Auto Performance Heat Exchanger for the Audi B8/B8.5 S4/S5 and C7/C7.5 A6/A7 is the intercooler upgrade your vehicle deserves and needs to properly cool down. Engineered and designed to maximize the space available on the front of the supercharged 3.0T, this heat exchanger upgrade significantly reduces intake air temperatures which is vital in maintaining performance.
MUST DO UPGRADE FOR STAGE 1 & STAGE 2 AUDI 3.0T V6
Although stock Audi's with the 3.0T supercharged V6 have sufficient cooling with the stock intercooler/heat exchanger, once upgraded to Stage 1 or Stage 2 and beyond, a heat exchanger is a must to maintain performance and reliability.
COMBAT HEAT SOAK: OPTIMIZE YOUR AUDI 3.0T SUPERCHARGED V6
Known for being able to double output in power (from stock applications of 333HP to modified applications of over 670HP), the Audi 3.0T supercharged V6 engine is truly a masterpiece. Its Achilles' heel is undoubtedly heat soak caused by high intake air temperatures. Cars without a heat exchanger on Stage 2 upgraded pulley setups quickly become slower than even stock cars without any modifications due to heat soak. 
Upgrading your stock heat exchanger to the CAP all-aluminum heat exchanger will prevent the heat soak that kills performance from repeated pulls and even improves reliability. The oversized core is over 2.5x larger than the stock heat exchanger and maintains an efficient lightweight design, better than other heat exchangers available on the market.
Heat Exchanger comes with brackets. Please note one of the brackets may need to be modified for 4.0T usage on the Audi S6/S7.
If you choose to purchase the Fit Kit with, then the heat exchanger will come with a high-temperature hose and fittings needed for install.
CAP HEAT EXCHANGER FOR THE B8/B8.5 S4/S5 3.0T V6 SUPERCHARGER BENEFITS
AVOID heat soak!! & Increase Horsepower

Significantly lower intake air temperatures

Significantly less pressure drop over OEM

Low turbulence

Anti-Corrosion

Thermal heat dissipating characteristics

Extensive quality control

Made to purge all air when installed correctly

Pressure tested after assembly

High-density fin core

Lightweight construction

Triple pass core

Drain plug to limit air from being trapped in

Increases reliability of stock supercharger intercoolers 
Vehicle Fitment:
CAP Can Auto Performance Supercharger 3.0T Heat Exchanger | 2010-2017 B8/B8.5 Audi S4, S5, A6, A7, Q5, SQ5, S6, S7
Sale price

$539.00
Regular price

$579.00
Choose options